New Atlantic Cladding Website
Welcome to our brand new Atlantic Cladding website, where we aspire to provide you with a wide variety of products at very competitive prices.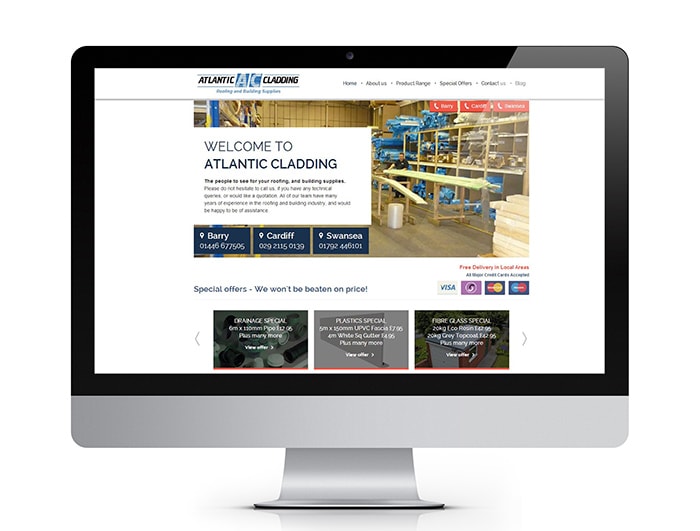 Atlantic Cladding has three branches based in South Wales, and over 20 years experience in the roofing and building industry. Not only can you expect the best prices from Atlantic Cladding, but also an excellent, and friendly service, provided by staff that have excellent knowledge of the products we stock, and their uses.
Whether you are in the trade, or a do it yourselfer, you should have no problems finding the products you require on the Atlantic Cladding website. If you require help in finding the items you need please don't hesitate to give one of our branches a call. You can also email Atlantic Cladding with any queries you may have and one of our dedicated team members will contact you.
We have made changes to our website to ensure it is compatible with iPhones and tablets to make sure you can access these products whilst 'on the move'.
Each month we have a variety of products that are on special offer, you can view these by simply clicking on special offers at the top of our home page – we advise to act quickly so you don't miss out on these fantastic deals!
For all our trade customers you are able to download an account application form from our home screen, this will allow you to purchase products using credit as well as discounts that have been set up on our database.
At the bottom of the home screen you will notice you can signup for our newsletter, that will allow you to see the latest news about the company, including any new products we will be stocking, and much more.
A unique part of our website coming soon, is our "helpful fixing guide section". This part of the site has lots of useful tips on what products you will require to start and finish a specific job, the tools that will be required, and step by step directions on how to complete the job correctly.
Please feel free to browse our site, and remember if you have any technical queries, or would like a quotation, please do not hesitate to call. We look forward to being of service to you in the near future.