Contact us today for Roofing Sealants
Please do not hesitate to call us on any of the numbers below, if you have any technical queries about our silicone, fixings and tools, or if you would like a quotation. Our team have many years of experience in the roofing and building industry and would be happy to be of assistance.
Free Delivery & All Major Credit Cards Accepted
Flat Roofing Sealants – Silicone / Fixings / Tools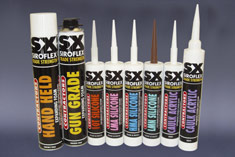 We have an extensive range of silicones and accessories, including our own high quality, own label silicone, which we sell in box quantities at an extremely competitive price.
In addition to our extensive range of silicones and associated products, we stock a wide selection of different tools and other miscellaneous products, which aid with the safe and effective application and fitting of our UPVC products. These include ancillaries such as solvent cleaner, super glue, rolls of tissue etc. Fixings such as TX 30 frame screws, frame anchors and Hi-Tec wood screws are also held in stock in large volumes.
If you are unsure about which specific tools and equipment are best suited to a particular job, please do not hesitate to contact our friendly team who will be more than happy to help.
We supply customers in every market, from the regular do-it-yourself-er, to housing developers and local authorities. Our products are suitable for new builds, refurbishment projects and renovations. Our customers flock to Atlantic Cladding to experience the benefit of a cost effective and durable solution over the life of the installation.
Available at Atlantic Cladding:
Solvent cleaner
Supper glue
Rolls of tissue
TX 30 frame screws
Frame anchors
Hi-Tec wood screws
Find a Location
Swansea
St Davids Road Industrial Estate,
Enterprise Park,
Swansea, SA6 8QL
Barry
Atlantic Way,
Barry Docks,
Barry, CF63 3RA
Cardiff
Jubilee Trading Estate,
East Tyndall Street,
Cardiff, CF24 5EF
Newport
Unit 4 Stephenson Street,
Newport,
NP19 4XB