Contact us today for Roofing Slates
Please do not hesitate to call us on any of the numbers below, if you have any technical queries about our slate products, or if you would like a quotation. Our team have many years of experience in the roofing and building industry and would be happy to be of assistance.
Free Delivery & All Major Credit Cards Accepted
Pitched Roofing Slates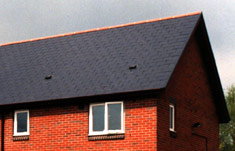 What is it?

Slate is a durable, long lasting roofing material, British slate is tough, hard wearing and watertight; therefore, it makes a great addition to any roof.
Things to remember:
When your slate roofing is delivered to your home remember to have it safely stacked, this stops a process called efflorescence.
If you are re-roofing your home, you should consider getting new insulation. Good insulation can cut energy bills by 40%, so is well worth a thought.
Once your roof slate is installed you will need to have regular inspections to ensure it remains in good condition.
Where can you get it?

At Atlantic Cladding, we stock non-asbestos man-made slates in (600 x300) and (600 x 600) sizes. We also stock slate vents, bonding gutters, ridges (in concrete and grc), underslate felts and breathable membranes. Fixings are available also such as crampions, copper clout nails and galvanised round wire nails. Other slates are also available to order, such as natural Welsh and Spanish slates.
Available at Atlantic Cladding:
Non-asbestos man made slates
Slate vents, bonding gutters and ridges
Crampions, copper cloat nails and galv round wire nails
Find a Location
Swansea
St Davids Road Industrial Estate,
Enterprise Park,
Swansea, SA6 8QL
Barry
Atlantic Way,
Barry Docks,
Barry, CF63 3RA
Cardiff
Jubilee Trading Estate,
East Tyndall Street,
Cardiff, CF24 5EF
Newport
Unit 4 Stephenson Street,
Newport,
NP19 4XB