Contact us today for Lead Flashing Rolls
Please do not hesitate to call us on any of the numbers below, if you have any technical queries about our lead products, or if you would like a quotation. Our team have many years of experience in the roofing and building industry and would be happy to be of assistance.
Free Delivery & All Major Credit Cards Accepted
Lead Flashing Rolls and Lead Roofing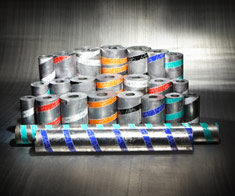 We have been supplying the Lead Flashing and Lead Roofing needs of individuals and companies alike throughout the UK for over 20 years. Our aim is to supply our customers with the highest quality bespoke Roofing Products and any advice that may be needed to achieve the satisfaction of a good finish job.
At Atlantic Cladding we offer a range of rolled and flashing roofing lead, and we only stock the highest quality lead. If we do not have your exact size, thickness or dimension in stock, let us know and we get it made to your exact specification in no time at all. Contact us about your specific requirements and we will get back to you with a fast solution.
We are one of the largest stockholders of lead in Wales. We stock code 3 and code 4 from 150mm up to 600mm and we also stock working tools, patination oil and lead silicone. We can also supply to order in code 5,6,7 and 8 and up to a width of 1350mm (53").
Code 3 and code 4 lead
Working tools
Patination oil and silicone
Find a Location
Swansea
St Davids Road Industrial Estate,
Enterprise Park,
Swansea, SA6 8QL
Barry
Atlantic Way,
Barry Docks,
Barry, CF63 3RA
Cardiff
Jubilee Trading Estate,
East Tyndall Street,
Cardiff, CF24 5EF
Newport
Unit 4 Stephenson Street,
Newport,
NP19 4XB