Atlantic's Top 10 Reasons To Use Treated Timber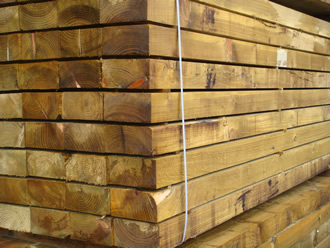 There are many different grades and types of timber that are easily accessible on the market; however treated timber has to be at the top of that list. Whether you are building a timber frame structure or simply renovating your garden fence "this is the timber for you."
Below are 10 great reasons why you should use treated timber–
LIFE SPAN – The life span of treated timber is far higher than regular timber due to the preservatives that are used in the production process.
FUNGAL/INSECT REPELLENT – When this kind of timber is pressure treated certain preservatives are used that help repel insects and prevent fungus that can often cause wood to rot.
PROTECTION – Most people stain outside timber to protect it against weathering but treated timber already has a barrier against this. Over time you will still have to take measures to maintain this protection.
DURABILITY – Treated timber has good durability being able to withstand wear and tear.
PROLONGED IMMERSION IN WATER – Products such as ply board can be used in the production of building boats because it is great at fighting against decay from sea water.
PRICE – Dependent on the type of treated timber you use, the majority of the time treated timber is only fractionally higher in price compared to basic sawn timber.
SECURITY – Ply board can be a great product to use for blocking up entrances to buildings due to its strength and resistance to the weather.
STRENGTH – Treated timber in general has great strength due to the way that it is produced.
FIRE RETARDANT – Some types of treated timber are fire retardant therefore prolonging the time it takes to catch on fire and slowing down the burning process.
VERSATILITY – Treated timber is very versatile as it can be used in many different aspects of building work.
Although treated timber has many benefits, it is important to check it is a suitable material for the task at hand before purchasing. For further information on this, please do not hesitate to call one of our warehouses,  and our experienced team will be happy to help.