DIY Christmas Gift Essentials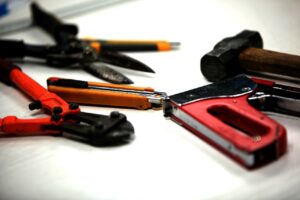 That special time of year will soon be upon us, so its time to start thinking of the people most dear to you, and the gifts they will enjoy, and treasure. In your home tools can often be strewn about the place, causing damage to your home and tools potentially. It also makes them difficult to locate when required. One labor free way of sorting out this issue, is store tools tidily inside a tool box. Tool boxes can be bought from many different builders' merchants and DIY stores in a variety of sizes, and different price ranges. The items that people need, and appreciate the most, are the simple items like hammers, tape measures, screw driver sets, drill bit sets as well as some of the more expensive items such as power tools and work benches.
Finding a great gift for an inspiring Do It Yourselfer is not just about buying that perfect tool, but also about giving them the advice and knowledge to use it. Many supermarkets, DIY stores, and book shops, have a large selection of DIY books to purchase off the shelf. No matter how long you have been doing DIY there is always something new you can learn, including tips to help jobs progress easier.
When buying electric tools such as cordless drills, to get the best value for your money it is of high importance to look for unique differences. Some people may just look at the price of an item rather than the potential advantage each individual make can offer. One of the most common looked for differences is the voltage. If the voltage is to low then the battery life will be short, therefore affecting power and usability.
If you are unsure what to get friends, and family for Christmas because there is so much to choose from on the market today, most DIY stores sell gift cards, so they can buy what they want.