Contact us today for Fibreglass Flat Roofings
Please do not hesitate to call us on any of the numbers below, if you have any technical queries about our fibreglass flat roofing products, or if you would like a quotation. All of our team have many years of experience in the roofing and building industry and would be happy to be of assistance.
Fibreglass Flat Roofing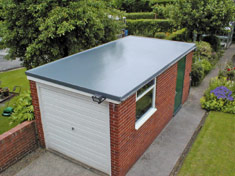 Atlantic Cladding stocks a comprehensive range of Fibreglass roofing products, starting with resin, topcoat, matting and catalyst. We are also one of the largest stockists of Rhino GRP, the premium flat roofing system, which carries a 25-year guarantee.
Available to both the Roofing Contractor and the DIY home-user, resins are the ideal economic solution for all GRP flat roofing needs – from garages to extensions, and from valley gutters to balconies, with the right tools and materials, you can have a waterproof flat roof, which will withstand all weather conditions for many years.
We also have all the fibreglass trims that would be required for a roof installation, including drip trim, parapet trim, flashing trim, expansion trim and external and internal corners. We also stock all the tools, containers and accessories required for roofing.
Available at Atlantic Cladding:
Resin, topcoat, matting and catalyst
Fibreglass trims
Tools, containers and accessories
Why use fibreglass roofing?
Tough and hard wearing
A Fibreglass Roof can last well over 25 years when fitted correctly
Easy to repair if physically damaged
Can be extended or re-furbished
It can be tiled or used as a garden platform
Replaces lead and has no intrinsic value to thieves
Find a Location
Swansea
St Davids Road Industrial Estate,
Enterprise Park,
Swansea, SA6 8QL
Barry
Atlantic Way,
Barry Docks,
Barry, CF63 3RA
Cardiff
Jubilee Trading Estate,
East Tyndall Street,
Cardiff, CF24 5EF
Newport
Unit 4 Stephenson Street,
Newport,
NP19 4XB