Extending Your Timber Decking
Decking is a great option for your garden. When installed well it gives such a clean and natural finish to your seating area. Decking is also a versatile option as it can be used for your seating area, to surround a pool or hot tub, for steps and for walkways.
With the official start of Summer this week, it is the perfect time to consider sprucing up your garden and create a relaxing space to enjoy the intermittent sun. Its versatility allows you to modify and extend as you wish in the future as your needs and preferences change. Take a look below for some simple starter tips on extending your existing decking.
Simple extension
A pretty straightforward adjustment to your existing decking. Plan the length you'd like to extend by and create a new frame to support the boards.
Unscrew the existing end boards along the edge to be extended to make way for the new timber.
Once the frame is secured, you can start laying the boards across the extended area. As with new decking, saw off any boards overhanging the full frame and secure in place.
Changing direction
If your decking doesn't follow the original shape of the decking, the best solution is to have the new boards pointing in a different direction.
Extend the frame following the area of your new area to be covered, overhanging areas can be sawn at a later stage.

Saw the end boards at the required angle and screw into place against the existing boards.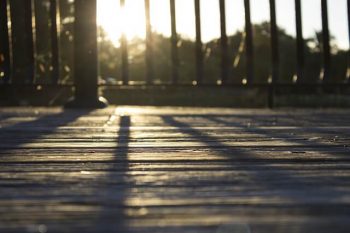 Be sure to check if you require planning permission for your intended project. You also need to ensure your existing deck is still structurally sound and not showing any signs of rotting or warping that would create a weakness.
When buying timber, make sure to get the best quality for a lower maintenance decking that will last for longer. We stock a wide range of timber products including sawn and treated timber in various sizes and lengths. Take a look at our timber product page for more information on the products on offer or feel free to get in touch with any questions.