Contact us today for Felt Roofing Roll products
Please do not hesitate to call us, if you have any technical queries about our felt roofing products, or if you would like a quotation. All of our team have many years of experience in the roofing and building industry and would be happy to be of assistance.
Free Delivery & All Major Credit Cards Accepted
Felt Roofing Rolls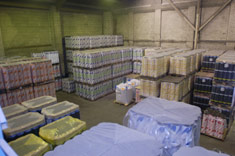 Roofing felt is a product that has been around for a long time, with good reason. It is one of the most resilient, and cost-effective forms of flat roofing, but can also be used in many other applications such as pitched slate roofing.
Why is it necessary?
Felt is a traditional flat roofing product, that if applied correctly, can create a roof covering that not only looks good, but also lasts for years. There are basically two types of felt roofing applications, pour and roll felts, and torch on felts.
Pour and Roll felts – There is the Strong Bond range incorporating the Strong Bond 180 green mineral and the 180 sand underlay. These are a specially manufactured range of products, utilizing high performance characteristics, and giving strength and durability on a wide range of flat roofing applications. These products are often used in conjunction with perforated underlay, and bitumen.
Torch on Felts – There is the Debotec Peak range, which offers felts in underlay, plain and green mineral formats. This is a versatile SBS range of products, using modified fibreglass sheets, and a reinforced polyester final layer.
Where can you get it?
At Atlantic Cladding, we stock an extensive range of roof felts, including underlays and green minerals in various sizes and grades. We also sell kegs of bitumen to be used in conjunction with the pour and roll products, and other roofing solutions and compounds such as bituminous primer, felt adhesive, gritting solutions, aluminium reflective coating etc. We also have a broad range of torch on felts to suit various applications.
Available at Atlantic Cladding:

Torch on Felts
Pour and Roll Felts
Roofing Solutions and Compounds
Find a Location
Swansea
St Davids Road Industrial Estate,
Enterprise Park,
Swansea, SA6 8QL
Barry
Atlantic Way,
Barry Docks,
Barry, CF63 3RA
Cardiff
Jubilee Trading Estate,
East Tyndall Street,
Cardiff, CF24 5EF
Newport
Unit 4 Stephenson Street,
Newport,
NP19 4XB