Contact us today for EPDM Roofing
Please do not hesitate to call us, if you have any technical queries about our EPDM Rubber Roofing, or if you would like a quotation. All of our team have many years of experience in the roofing and building industry and would be happy to be of assistance.
Free Delivery & All Major Credit Cards Accepted
EPDM Rubber Roofing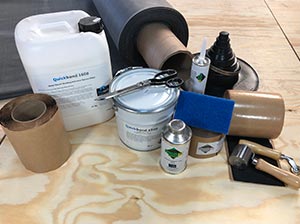 At Atlantic Cladding, we stock Rubberall EPDM rubber roofing, because we believe it to be the best EPDM roofing system on the market. Rubber roofing is a durable and ideal roofing material and a solution for residential flat roofs such as sheds, extensions, verandas, dormers, porches, garages and gutters, but it can also be used on much larger industrial roofs, due to the large seamless sheets, the fire resistance, and the ease of installation. Rubberall are the market leader in EPDM rubber roofs, so you know you are getting a top-quality product, but because of Atlantic's buying power, we can sell it at unbeatable prices.
Available at Atlantic Cladding :
Rubberall EPDM rubber roofing up to 30.5m long. Available widths 3.05m, 4.57m, 6.10m, 7.62m, 9.14m
Modular water based adhesive
Bonding solvent based adhesive
Splice tape and flashing tape
EPDM roof trims in plastic and metal
All EPDM roof accessories and tools
Find a Location
Swansea
St Davids Road Industrial Estate,
Enterprise Park,
Swansea, SA6 8QL
Barry
Atlantic Way,
Barry Docks,
Barry, CF63 3RA
Cardiff
Jubilee Trading Estate,
East Tyndall Street,
Cardiff, CF24 5EF
Newport
Unit 4 Stephenson Street,
Newport,
NP19 4XB