Top Tips for Drainage Solutions to Battle Rain, Sleet & Snow
It's that time of year again, when all our homes can become vulnerable to the season's weather.  By taking the right precautions you can help prevent your property becoming a victim of these harsh conditions. Below are a range of drainage solutions to help your home battle the rain, sleet and snow:
Underground Drainage Systems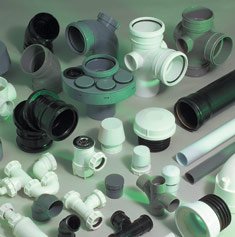 If you are noticing settlements of water in areas of your property there could be a break in your drainage system, and parts may need replacing. Use a plain ended pipe as a main channel for drainage to flow through. To connect pipes together for a longer link use a double socket pipe coupling.  A Single Socket Bend can be used to create an angle where required – different degrees of bend are available to purchase from 15 degrees to 90 degrees to meet individual requirements. If you are unsure what degree bend is required or you believe the angle is in between standard degrees an adjustable bend is available, which will allow you to create any degree bend between zero and 90 degrees. If your Bottle Gully is damaged this can allow water to escape, as well as materials to block the drain therefore allowing water to settle. If this is the case, it is time to replace it.
Soil Systems
Soil systems are used to channel water, and waste, from your house to the main drainage system. Leaks around the pipe work can be a sign of a damaged soil system. A range of products are available to produce a fully functioning soil system such as:
Plain Ended Pipe – to channel water and waste from the top of house to the drainage system
Double Socket Branch – to connect 2 pipes together entering from different angles
Bottom Offset Bend – to create an angle
Boss Pipe – Socket/Spigot – a connector to allow waste pipes to enter the main system
Waste Systems
Used to channel waste from your property to the main drainage system. Drainage waste smells , leaks inside the property can be a sign there is a problem with your waste system. Essential products used to produce an effective waste system include:
Solvent Bend – allows you to create an angle
Pushfit Waste Pipe – used to channel waste without the need of any sealant as you literally 'push' fittings and pipes together
Pushfit Tee – will allow you to have 3 separate waste pipe connections such as bath, sink, shower.
At Atlantic Cladding we currently have these products on special offer so don't delay buy today and make some fantastic savings! Learn more…