Top 10 DIY Essentials Every Handy Man Needs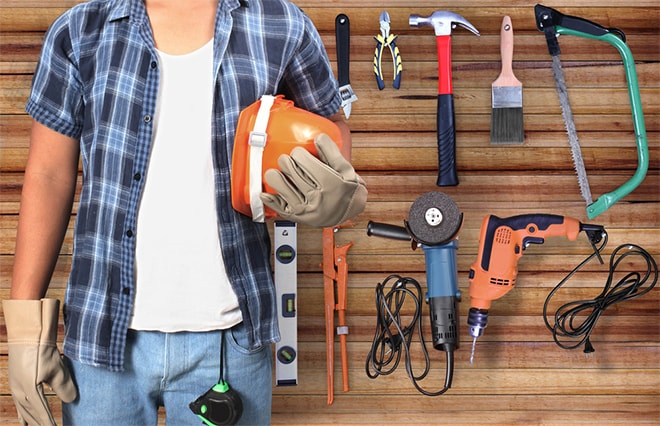 When dabbling in DIY, it is of great importance that you have the correct tools, and accessories, to complete the necessary job, so that it runs as smoothly as possible, and so you end up with a quality job that you are proud of.
When doing DIY around the house, it can seem like everything is going against you. This in turn can makes you stressed, which can show in the quality of the finished job. Preparation is the key. With the correct preparation, and by using the appropriate tools, the job in hand will run a lot smoother, and this will almost definitely show in the end result.
Below is a list of essential tools and accessories for DIY.
HAMMER/CLAW HAMMER – This tool is essential due to its versatility. Whether you need to fix a picture hook to your wall, or have an old cabinet that needs to be dismantled, a hammer can provide the answer.
JACK SAW – You never know when a saw is needed, and for this reason it's definitely a must have tool to keep with you at all times.
SCREW DRIVER – It is surprising the amount of different jobs where a screw driver is required, from removing an old screw that is causing an obstruction or putting flat packs together.
CORDLESS DRILL – Sometimes it is not always possible to complete a job using a hand held screw driver. This is where a cordless drill comes into a league of its own, from drilling holes to removing stubborn screws, making the job more efficient, and much less labour intensive.
CARPENTERS PENCIL – Don't get caught out when you are standing on a ladder, and need something to make a mark. Always have this item close to hand.
STANLEY KNIFE – This is a great tool to keep in your tool box as you never know when you may need it. It can be used for anything from cutting plaster boards, creating a clean cut finish to products, or simply for sharpening a pencil.
TAPE MEASURE – Tape measures are used all the time in DIY to get accurate measurements, from measuring for blinds, to measuring for new gutters and fascias.
SPIRIT LEVEL – You don't want your work to look shabby, so always use the correct tools such as a spirit level instead of your eyes.
CHISEL – A chisel is a great tool to own. It can be used in most carpentry jobs such as fitting new doors in your house, but always make sure they are kept sharp.
SQUARE – Generally in older houses the walls aren't square, so using this tool will help you to get an accurate finish.
For further information on any of the above, please do not hesitate to call your local warehouse, and one of our experienced team will be delighted to help you.