Tips for Fitting Fibre Cement Slates
Slate tiling really gives that high quality finish to any roof. British slate is perfect for roofing, it is durable, water tight and aesthetically pleasing. Unfortunately, it is one of the more expensive options for both material and labour but is well worth the investment.
Here are some tips for when you're starting out planning the project:
Tiles
Cut the tiles to size, preferably using a scriber and breaking over a straight edge. You will need to drill additional fixing holes using a 4.5mm masonry drill positioned more than 20mm from the edge.
Underlay
Fix the underlay over the rafters with at least 100mm of vertical laps. The horizontal laps should be at least 150mm for roofing <35o and 100mm for 35o+. Make sure that the underlay drains properly into the gutter and allows air to flow freely through the ventilators.
Battens
Ensure the battens are treated softwood and show no signs of damage. As a rough guide, if the rafter spacing is up to 450mm you should be using a batten size of 25 x 38mm or if it over 450-600mm you would need to use a size of 25 x 50mm.
Getting started
Fit the battens to the appropriate gauge (Gauge = (Length of slate – lap)/2). Ensure the eave slates overhang the gutter by 50mm and the verge overhang is no more than 50mm.
Eaves
You must support the eaves course with fascia build and/or a continuous tilting fillet. Ensure the underlay overhangs the fascia for water to drain into the gutter.
Verges
Slates need to overhang by no more than 50mm, use a slate and a half in alternate courses to keep a bond.
Ventilation
There are strict building regulations in place that will help prevent the build up of condensation within the roof. It would be worth considering slate vents and eaves and ridge ventilators as required.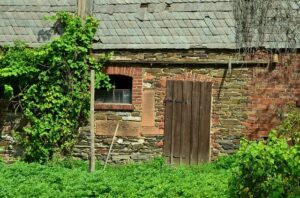 British Standards
When fixing the tiles you need to be fixing the slate in accordance to British Standards. Some of these are below, be sure to plan them in to the strategy:
Lay them with a broken bond in regular horizontal courses
Centre nail the tiles with two 30mm long copper nails

Leave a minimum of a 3mm gap between slates

If the tile is in excess of a standard width, fix it with three nails and two disc rivets

The tiles need to be nailed tightly but leave a small amount of give
We stock only top quality slate and accessories to help install it. Take a look through our product page and feel free to give us a call if you have any questions about our products or your project.