What silicones, fixings and tools you need in your tool box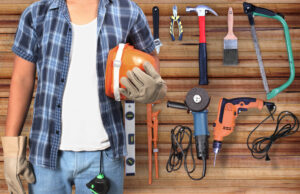 When completing building work, or DIY projects, there are a lot of different jobs that require a variety of silicones, fixings and tools. To produce the highest quality finishes to your project, it is important to check what is available on the market, and to choose wisely, when ordering. Below are some of the more common items that are used, which should be kept in your toolbox.
Panel Grip – This is a great product that can often be a really helpful item to have to hand, when you need to stick something securely, and safely. It is often used to stick bathroom, and kitchen panels to walls and ceilings, but because of the strong adhesion that it offers, it is also used to stick a whole host of other products, to many different types of surfaces.
Silicones (white/clear) – Plain and simple silicone sealants like these, should always be kept close to hand, as they are used a lot when finishing off building, and DIY projects, such as the installation of windows, and doors, or the sealing of showers , and baths.
Window Fixings – When fitting window frames a lot of builders will use frame anchor fixings, but screws such as TX fixings can be a lot easier to use, as they don't require any wall plugs. It is advisable to buy in boxes rather than individually to get the best price, and also is usually means that you will have some available in you tool box, when you need them.
Wood Screws – You can never have too many wood screws, as they will always be used for a large number of different building and DIY projects.
Basic Tools – It goes without saying there are certain tools that should always be carried around with you, and kept in your tool box. Below is a list of some of the more basic tools you should invest in, if you don't already possess them.
• Hammer
• Stanley Knife
• Tape Measure
• Silicone Gun
• Screw Driver
• Carpenters Pencil
• Spirit Level
By making sure that all of these products, are in your tool box at all times, it will make doing jobs a lot easier, making the finished job that much better.