The many advantages UPVC Windows have over Wooden Windows
In the current climate that we all live in there are many advantages to having UPVC windows. Many people like the style, and character that wooden windows can bring to the look of the outside of a house,  but with all of the products, and materials that are currently on the market you can achieve the same results with UPVC windows.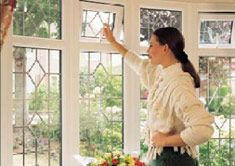 Below is a list of the many advantages of having UPVC windows.
VALUE FOR MONEY-UPVC is more often than not the most cost efficient material on the market compared to aluminum, or timber. This isn't always to do with the price you pay for the windows ,but cost of repair, and the chances of faults.
LOW MAINTENANCE-Another hugely appealing feature of UPVC is that it is extraordinarily low maintenance. Aluminum is resilient, but still needs care every now and then. On the other hand, UPVC never rots, flakes, rusts or fades. Apart from a quick wipe with a cloth to keep it clean, UPVC requires virtually no maintenance, making it very convenient and time-saving.
DURABILITY-UPVC is also the most durable of the materials available; UPVC is strong, tough and resilient where other products such as aluminum can pick up rust. It is highly unlikely UPVC will need to be changed because of this reason, some companies will offer up to 10 year guarantees on UPVC double glazing.
INSULATION/SOUND PROOFING-Insulation is another feature of the UPVC material that exceeds aluminum. UPVC was designed to be a highly competent insulator, and provides the best heat, and energy insulation available. Compared to the alternative of aluminum,UPVC is a very good insulator. This ability to keep heat in, and sound out, is fundamentally responsible for its popularity.
SECURITY-UPVC is very reliable, and trustworthy, when it comes to security due to its resilient, and robust nature. UPVC frames are extremely hard ,and this makes it very difficult to break through, or damage. Though aluminum is equally, if not more secure, and is considered to be almost totally burglar-proof, due to its strength, UPVC is not far behind.
For any other information that you may need on UPVC windows, please don't hesitate to call one of our experienced team members.