Lead at Atlantic Cladding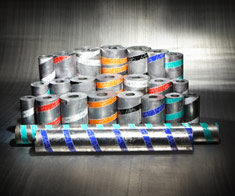 Lead is an extremely useful, and versatile component in the building industry, used for centuries it has always been, and still is, a very popular roofing material. It has a water-resistant barrier, and is hard wearing when properly installed, and treated. Lead is very popular because it is easy to use, and can be fitted in all-weather conditions, unlike when working with some other flashing materials. Another advantage of using this material is its versatility, it's is known as the ultimate malleable material so you can shape it as required.
As one of the largeststock holders of Lead in Wales, Atlantic Cladding stock a wide range of Lead components used in numerous building applications such as roofing, flashing, gutters, cladding, downspouts and conductor heads.
Dependent on the task at hand, and building specification, you may require a thicker lead (higher code) than others. We can supply lead coded  from 3 to 8 with 8 being the thickest.
Our comprehensive range includes:
Code 3 and Code 4 Lead( from 150mm up to 600mm)  – Supplied in 6 Metre Rolls (if less product is required please contact a branch where a team member will assist)
We aim to meet all customer requirements, so as well as stocking a large variety of lead products we can also supply lead to order in Code 5, 6, 7 and 8 and up to a width of 1350mm (53").
We also stock a variety of  working tools to be used with lead  – such as a Lead Dresser, Bending Stick, Mallet or Chase Wedge
Patinasion Oil and Lead Silicone is also available  – to add the right finishing touches
If you are looking for a particular lead product, and you cannot locate it on our website please do not hesitate to contact one of our friendly, and dedicated team members, at one of our branches who will endeavor to acquire the required product.