Fixing a Felt Roof
Felt roofing is a great option for flat roofing. It is an affordable option due to the low costs of the materials involved and the low intensity labour. The roofing is also pretty simple to maintain and comes with a lifespan of up to 20 years.
Felt is commonly used for garage or shed roofs but can be also used for larger commercial projects. Felt roofing is pretty easy to maintain due to its simplicity but if you have found a tear in the material, we've put a simple step-by-step to patch this up.
Fixing a Tear in a Felt Roof
Fixing a tear in roof felt is pretty simple. You will need to patch this up with a new piece of felt and use a roofing and gutter sealant to stick it together.
Lift the area of felt that has the tear and spray the sealant underneath and around the area.
Allow the sealant to dry and place the repair patch underneath the tear. Press the patch down onto the sealant and stick firmly.
You now need to spray again on the underside of the tear and stick this down to the new patch.
Once this has dried, spray again along the joints for the tear, the edge of the original piece of felt and also around the new patch.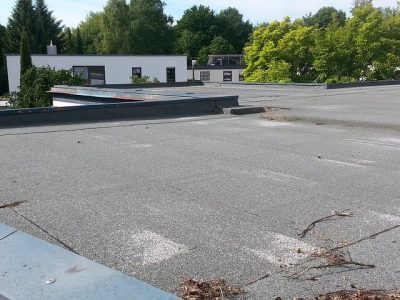 We have both pour and roll felts and torch on felts available at Atlantic Cladding. Our torch on felts include the Debotec Peak range with options of underlay, plain and green mineral formats. Take a look at our latest offer here.
Our pour and roll felt is specially manufactured to have a range that incorporates Strong Bond 180 green mineral and the 180 sand underlay. They are high performance with the strength and durability to suit a variety of flat roofing projects.
Not sure what you should use for your project? Feel free to get in touch with your local branch and one of our team would be happy to help out.