How to Fix a Leaky Flat Roof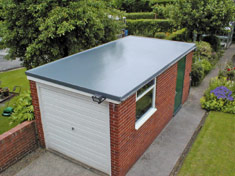 With the unpredictable weather that we have in the current climate that we live in, it can be very easy to inherit a leaky roof, whether this is down to lifespan, or bad workmanship.
Below are some ideas you can put in to place, if you are having problems with a leaking roof.
BASIC FIXES – There can be many reasons for having leaks from your roof, but this doesn't mean it always requires a complete renovation. Many felt, rubber, and fibreglass flat roofs over time can get cracks in them, but there are some great products on the market that can solve this, and prevent them from expanding, and leaking in the future. For example, one of these products is 'Cromapol'. This product has many benefits such as it can be used on roof that are still wet, and is very self explanatory to use, just simply open the tin, stir and paint onto affected areas. Some different versions of this product may be applied in different ways so make sure to read the instructions carefully, before attempting to use.
PATCHING UP – If one particular area of the fiberglass roof is affected it may be possible just to remove the fiberglass from that area, and then re-fiberglass it. Cracks in a small area can be down to many things such as the boards being wet when fibreglassing was first attempted, which will cause the fiberglass to delaminate from the board. To fix the problem you need to cut a square perimeter around the affected area, but don't remove the board providing there is no water damage to it. If the board is wet, but still usable, allow it to dry before carrying on, but if the board is unusable this process will not be adequate, because that part of the board would have to be replaced. After removing the affected fibreglass area, taper down the remaining topcoat around the perimeter, then wash and sand down remaining fibreglass with acetone. After this has been done, place matting in the square area to be repaired, add resin, and after finish with topcoat, as you would do in a normal fiberglass installation..
If none of these tips solve the problem with your leaking flat roof, it would be advisable to seek a professional opinion, as the roof may possibly need a complete renovation