Why choose uPVC for your conservatory?
If you're shopping around for conservatories, you'll find the majority of options will be uPVC. We love uPVC conservatories and have covered a few of their advantages below in case you're not quite sure what to choose.
Top 5 Reasons to Choose uPVC
Affordable: Standard panels make the design and manufacturing stages simple, keeping costs low. Low prices do not mean you are limited for choice, the range available is extensive and fit to meet the majority of requirements.
Durable and Low Maintenance: No paint, no staining and no finishing. Just wipe the uPVC clean and it will be looking as good as new with minimal effort. Its durability also ensures the plastic will not become discoloured from weathering and will not rust or warp.
Energy Efficient: uPVC conservatory panels are often insulated helping to regulate the temperature in your conservatory. If you opt for heat guard polycarbonate for your roofing, this can help reduce the amount of heat building up. The sheets allow light in but deflect solar radiation reducing heat gain. Read more about the sheets here.
Variety: Choosing uPVC allows you all of the advantages alongside a wide variety of options. Don't think the only option is white! You can be more adventurous in your choices and opt for different colours from subtle hints to bold statements. You can even get frames that resemble a wood finish – get the look you want without the cost or maintenance!
Modern and Traditional: The clean lines and square shape gives a contemporary finish to the conservatory. Whether the full design is modern or if you are going for the traditional style with a contemporary touch, uPVC has the options!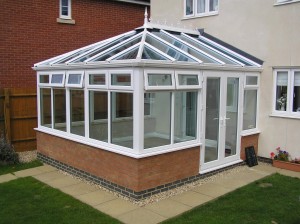 uPVC Conservatories at Atlantic Cladding
We manufacture to customer specifications from a 70mm profile that comes with a 10-year guarantee. All of our manufactured products are covered by the relevant British Standard Certificates and are accepted by local councils.
Please don't hesitate to call one of our branches for expert advice and the best solutions we can suggest for your project. Take a look at our product page for more information about what we have to offer!